The Australian Cattle Dog (ACD) is a breed of herding dog originally developed in Australia for droving cattle over long distances across rough terrain. Today it is a versatile breed: a courageous and tireless worker, an intelligent and athletic companion and a loving and playful family pet. They can bite "if harshly treated", they tend to nip heels to herd people, and they can be aggressive with other dogs. However, they are loyal and biddable, and respond well to training.
The Australian Cattle Dog is a medium-sized, short-coated dog that occurs in two main colour forms. The dogs have either brown or black hair distributed fairly evenly through a white coat, which gives the appearance of red or blue dogs. They have been nicknamed "Red Heelers" and "Blue Heelers" on the basis of this colouring and their practice of moving reluctant cattle by nipping at their heels. Dogs from a line bred in Queensland, Australia, which were successful at shows and at stud in the 1940s were called "Queensland Heelers" to differentiate them from lines bred in New South Wales, and this nickname is now occasionally applied to any Australian Cattle Dog.
While there is a good deal of mythology surrounding the origins of breed, in recent years, information technology that enables the manipulation of large databases, and advances in the understanding of canine genetics has allowed a clearer understanding of the Halls Heeler, its dispersal through eastern Australia, and its development into two modern breeds: the Australian Cattle Dog and the Australian Stumpy Tail Cattle Dog.
As with dogs from other working breeds, Australian Cattle Dogs have a good deal of energy, a quick intelligence, and an independent streak They respond well to structured training. They are not aggressive, but form a strong attachment with their owner and can be very protective of them and their possessions. They are easy to groom and maintain. The most common health problems are deafness and progressive blindness (both hereditary conditions) and accidental injury; otherwise, they are a robust breed with a lifespan of 12 to 14 years. Australian Cattle Dogs participate in a range of activities, from obedience, agility and herding competitions, to participating with their owners in hiking, flying disc, and endurance events, and working as therapy, assistance, or police dogs.Australian Cattle Dogs are sturdy, compact dogs that give the impression of agility and strength. They have a broad skull that flattens to a definite stop between the eyes, with muscular cheeks and a medium-length, deep, powerful muzzle. The ears are pricked, small to medium in size and set wide apart, with a covering of hair on the inside. The eyes are oval and dark, with an alert, keen expression. The neck and shoulders are strong and muscular; the forelegs are straight and parallel; and the feet round and strongly arched, with small toes and strong nails.
They should have well-conditioned muscles, even when bred for companion or show purposes. Ideally, their appearance is symmetrical and balanced, with no individual part of the dog being exaggerated. They should not look either delicate or cumbersome, as either characteristic limits the agility and endurance that is necessary for a working dog.
[edit] Size
Female Australian Cattle Dogs measure approximately 43–48 centimetres (17–19 in) at the withers, and males measure about 46–51 centimetres (18–20 in) at the withers. The dog should be longer than tall, that is, the length of the body from breast bone to buttocks is greater than the height at the withers, in a ratio of 10 to 9.[8] Australian Cattle Dogs in good condition weigh approximately 20–28 kilograms (44–62 lb).
Most famous cattle dog
Most famous cattle dog
Most famous cattle dog
cattle dog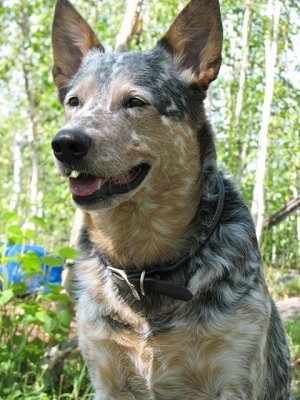 cattle dog
cattle dog
Most famous cattle dog
Most famous cattle dog